WELCOME TO SACRED PENDANTS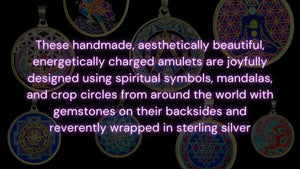 sacred pendants collection
ABOUT ME
I retired in 2009 from being an LAUSD teacher. All total, I had a twenty two year public school teaching experience. After my first six years
Read full story
SACRED GEOMETRY
Sacred Geometry involves sacred universal patterns used in the design of everything in our reality, most often seen in sacred
rEAD MORE
SACRED ARTISANS
Every pendant takes 22 steps of quality assurance. All gemstones and materials are locally sourced in Jaipur India and made by hand. 
READ MORE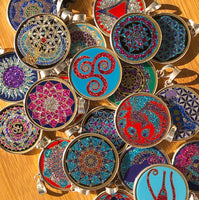 THE POWER OF SACRED PENDANTS
Throughout the ages, the healing properties of gemstones, their beauty, and magic have been recognized and harnessed. The ancients employed gemstones for protection, adornment and healing. Gemstones were frequently worn and carried by ancient Egyptians as amulets and charms. They were also used extensively in ceremonies and initiations by the Native Americans, the Mayans and the Aztecs.  
Healing Gemstones have been known to boost energy, clean space; attract wealth, enhance intuition, increase mental abilities, and boost confidence.
Purchase a Pendant
What customers are saying about our pendants
I love wearing my Sacred Pendant. For me it is the perfect blend of beauty and sacred symbolism.

Sara Christine
Every time I wear my Sacred Pendant I feel more empowered to live my life to the fullest.

Jane
I'm so happy that my purchase supports women in India to live better lives. My pendant feels alive!

Selacia